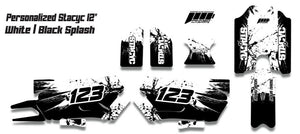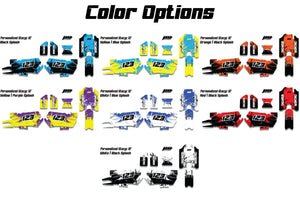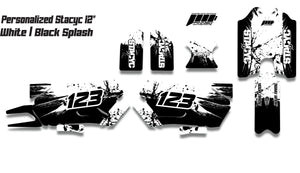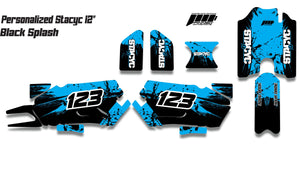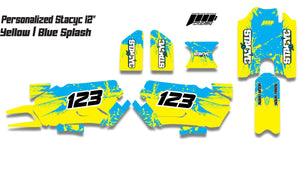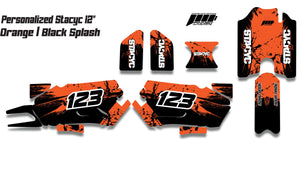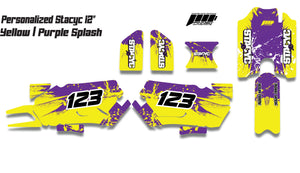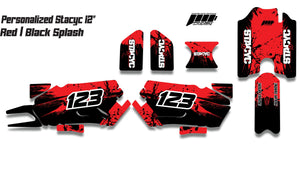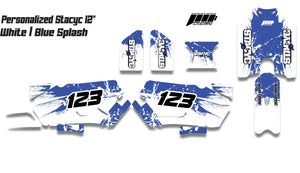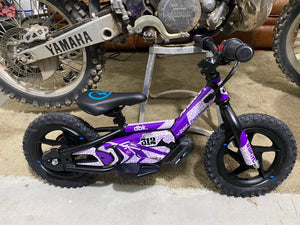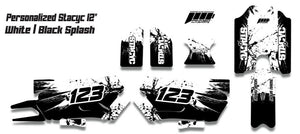 Personalized 12" Brushless Stacyc Splash Graphics kit, 12" Stacyc Custom Graphics, Stacyc Graphics Kit, 12" Brushless Stacyc Decals
PERSONALIZED SPLASH GRAPHICS FOR 12" STACYC BRUSHLESS BIKES
All Decals come with a laminate that will make sure they last in many conditions for years while being waterproof!
THIS IS FOR NON METALLIC NUMBER PLATES
Decals made in the shape to fit on the 12" Stacyc Brush-less Bikes
If you would like me to replicate a current design send me a photo through message after your purchase, there may be an additional art fee depending on complexity.
Make this kit unique to you by adding your name, number, logos and any other preferences you may like.
THE PROCESS :
Look through our photos to see some of the previous work.
Select a color for your graphics kit
In the personalization box pls include your name and number you want added to the kit along with any other details
Example : Williams 123 Black/White Splash
If you would like a custom design for the kit pls send it to me in the message section after your purchase.
If you would like a Mock up of the Kit Please message me after your purchase.
Otherwise we will go off your order details and proceed with printing.
Keep in mind colors may vary from monitor to monitor and printing may look slightly different than what you see on your screen.
Message me if you have any questions